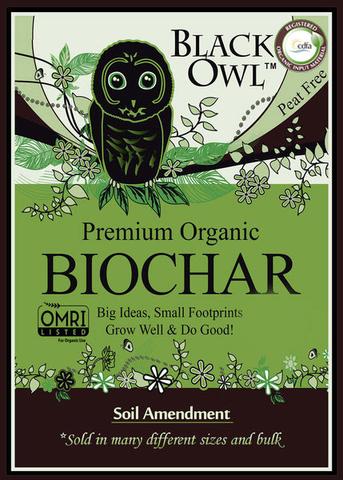 BLACK OWL BIOCHAR
This product is not available for purchase online. Please call us at 650.364.1730 or visit our store to place your order.
As one of the few Black Owl Biochar ("B.O.B") has become the sought after biochar, due to its consistency of its optimally-designed characteristics for:

> Building healthy soil
> Hosting beneficial microbes and fungi
> Reducing acidity Improving tilth and aeration
> Retaining nutrients
> Water-holding capacity = 5-6x its weight, good in droughts
> Saving on irrigation water

An application rate of 5%-10% is typical to maximize the utility of your potting mix/soil. BOB's particle size remains in the essential root area and won't wash through the soil like other amendments. It is therefore, typically a one-time application.

All Black Owl Biochar (TM) products have greater than 70% Organic Carbon. IBI defines a Class One biochar as any biochar consisting of anything greater than 60% Organic Carbon. Black Owl Biochar's Pure & Natural, Premium Organic Biochar is OMRI-Listed.
Our Sustainability Initiatives