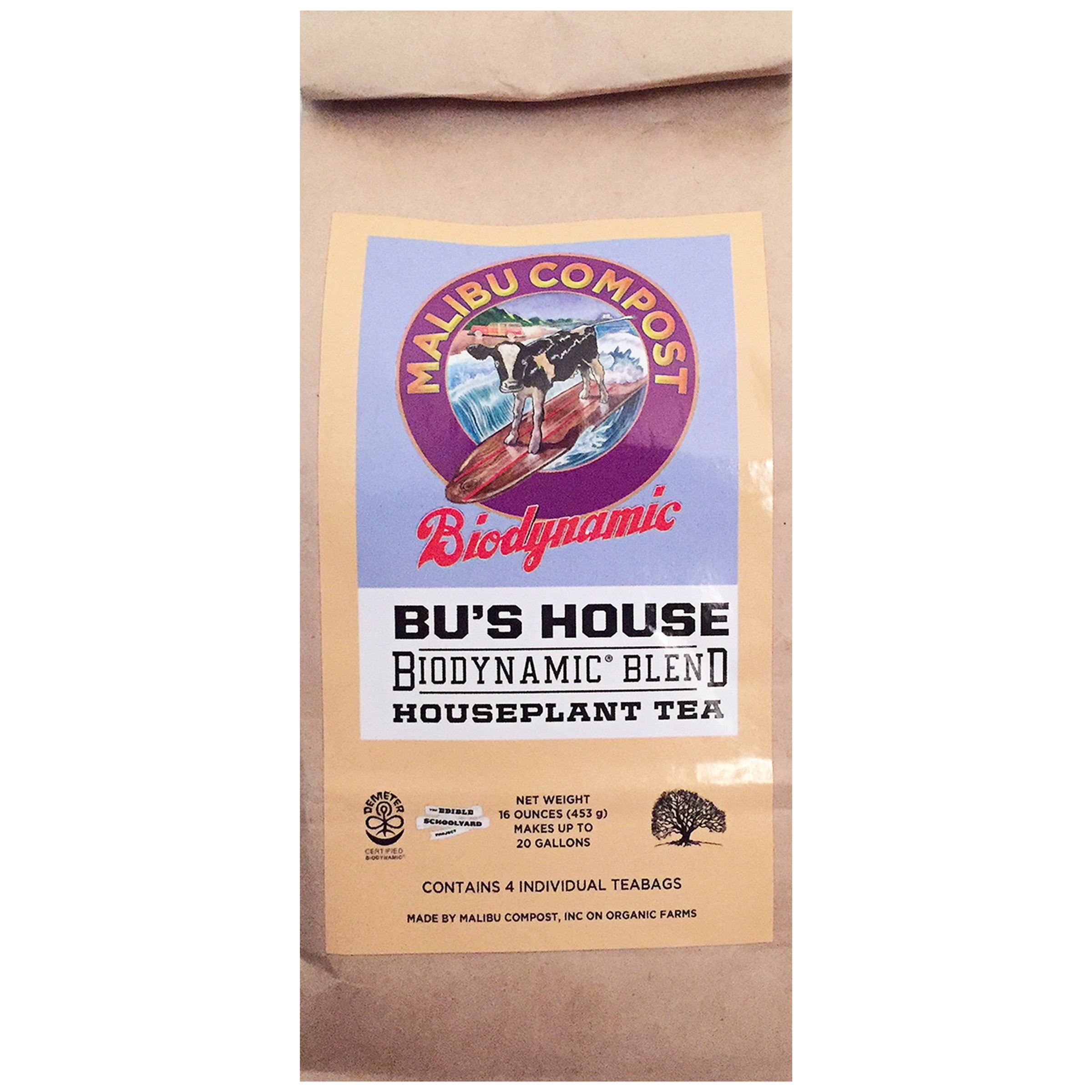 BU'S BIODYNAMIC HOUSEPLANT TEA
$15.50 / EA
This product is not available for purchase online. Please call us at 650.364.1730 or visit our store to place your order.
Malibu Compost Bu's Biodynamic Houseplant Compost Tea helps houseplants thrive by creating healthy soil! Bu's House Compost Tea is simple and easy to use. It doesn't have any chemicals, cheap fillers, salts, synthetics, or GMO feedstocks in it.

INGREDIENTS:

Compost (organic dairy cow manure, vineyard chips), dandelion, chamomile, stinging nettle, yarrow, oak bark, valerian, kelp, worm castings.

Each pack contains 4 teabags.

Benefits of using Bu's House Compost Tea:

- Improves houseplant growth
- Creates stronger, healthier plants
- Mitigates transplant shock
- Feeds the biology in your soil
- Adds more diverse biology to your soil
- Gives houseplants nutrients in between composting
- Increases the nutrients available to the root zone
- Adds soluble nutrients to your soil
- Adds trace minerals to your soil
- Helps soil retain nutrients
- Enhances nutrient availability
- Suppresses foliar diseases and pests

DIRECTIONS FOR USE

Malibu Compost Bu's House Compost Tea for Houseplants

1. Add 1 teabag to 2 to 5 gallons of water.

2. Steep compost tea bag for 8 to 12 hours, then use immediately.

3. After steeping, give the tea bag a squeeze, then remove it from the compost tea.

4. Recycle tea bag into your compost pile or garden.

5. Aerate compost tea by stirring for a moment before applying.

6. Use a watering can to drench the soil base with compost tea, or use a hand mister sprayer to apply to your houseplants. When drenching, apply tea at the same rate as a normal watering for the specific plant.

7. Apply once a month for optimum results.
Our Sustainability Initiatives