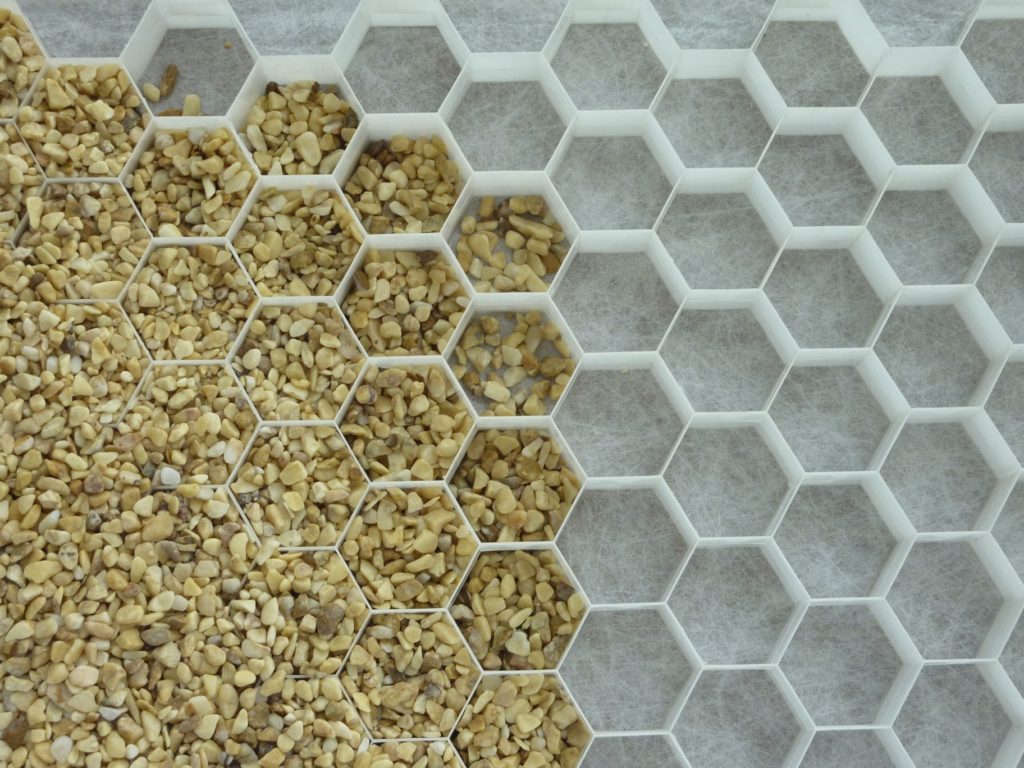 COREGRAVEL DRIVEWAY
$72.50 / EA
This product is not available for purchase online. Please call us at 650.364.1730 or visit our store to place your order.
CORE Gravel™ 50-35HD
Use: Heavy Duty - commercial paths, residential driveways, restaurant patios, and more
Gravel size: 7 – 15 mm
Cell Size: 50 mm wide x 35 mm deep
Cell Wall Thickness: 2.0 mm
Sheet Size: 1.15 m x .78 m (= 9.7 sq.ft.)
Cell Colour: White (virgin plastic)
Geotextile Fabric: Yes
Compressive Strength: 150 t/m2 (empty)
Suitable for vehicles: Yes

CORE Gravel™ is a gravel stabilizing system that consists of a foundation of connected honeycomb-celled panels with a geotextile backing. Once filled with gravel this system is ideal for public spaces, vehicle or pedestrian traffic with no compromise in strength and durability. This eco-friendly system costs less than other parking systems, including asphalt, concrete and block pavers.

CORE Gravel™ solves the problems associated with loose gravel; sinking, migrating and forming ruts. This is a proven solution for hassle-free gravel paving for all types of vehicle or pedestrian traffic with no compromise in strength and durability. The underside incorporates a durable geotextile which is heat welded to each cell, allowing water to drain easily while preventing weed growth. All panel edges have an interlocking system that makes for easy installation, even on steep grades.

Proprietary manufacturing process provides a rigid honeycomb core design that holds its uniform hexagon shape while providing maximum load bearing. When filled with gravel the product is practically invisible, making for attractive driveways, pathways and patio installations. This porous and eco-friendly surface allows for storm water to permeate into the soil, dramatically reducing runoff problems.

CORE Gravel™ is an excellent gravel stabilizing system.

View Product Information
Our Sustainability Initiatives