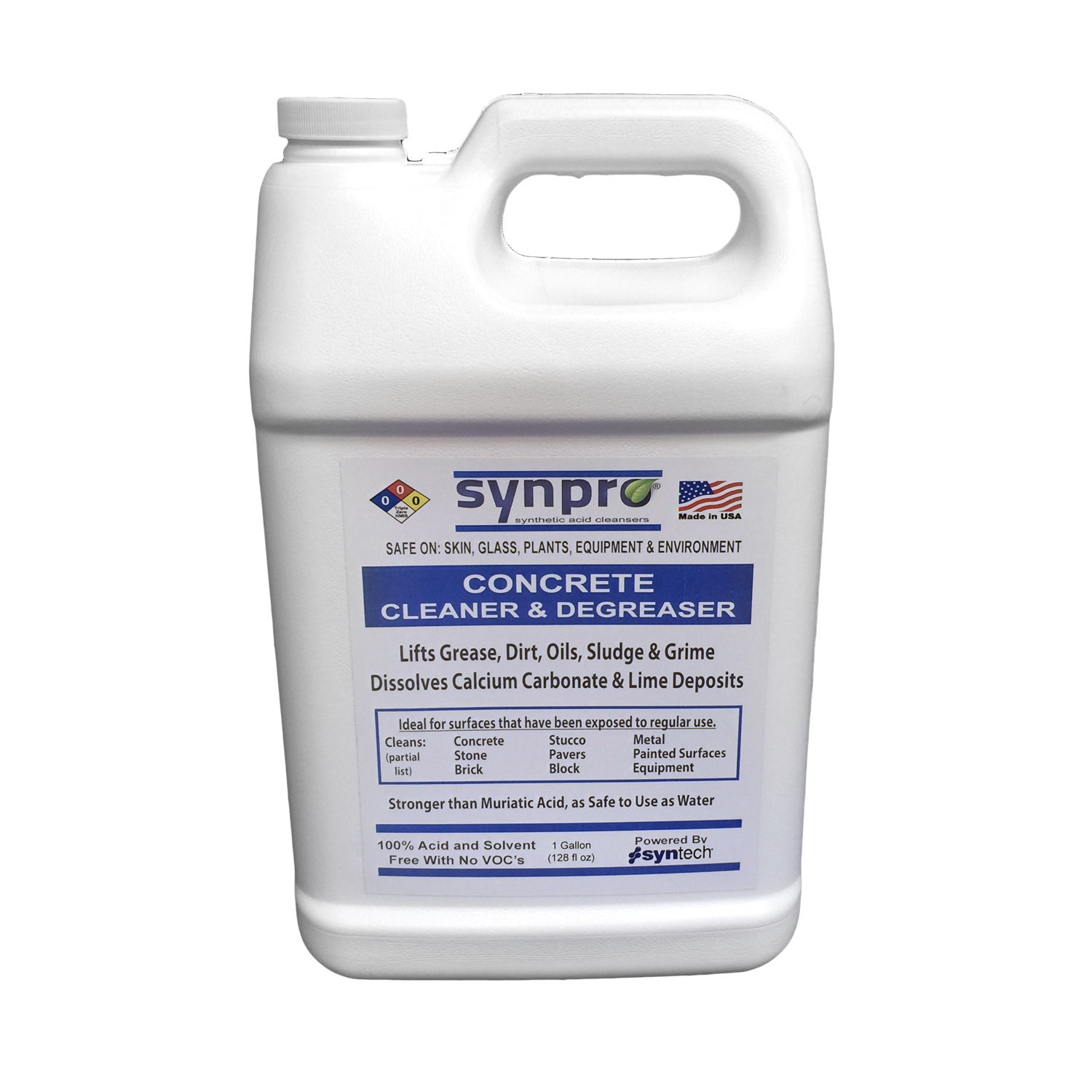 SYNPRO CONCRETE CLEANER DEGREASER
$39.95 / EA
This product is not available for purchase online. Please call us at 650.364.1730 or visit our store to place your order.
The only Synthetic Acid, Non-solvent, Non-caustic Cleaner

Non-Corrosive
Non-Caustic
Acid Free
Lifts Grease
Cuts Animal Fats
Cuts Vegetable Fats
Non-Emulsifying
One-Step Process
Non-DOT Regulated
Safe on Paint, Metal, Glass
Eliminates Odors
NSF Certified

Our newly patented SynPro synthetic acid system replaces harsh and dangerous cleaners in industries from vehicle cleaning, food processing, waste and water treatment. What makes our cleaners unique is their ability to outperform the harshest acidic and caustic solutions while remaining non-corrosive, non-skin irritating and non-regulated by the DOT. In fact, they are so safe, they carry a triple-zero HMIS score.

SynPro Concrete Cleaner Degreaser encapsulates and lifts petroleum-based oils, vegetable and animal fats, along with dirt, soils and grime without emulsifying. This combined with no detectable BOD limits and COD limits below 100 means that SynPro Concrete Cleaner Degreaser will not create additional problems in your waste-water runoff.

We also include our live vegetative microbes to break down solids removes odor on contact with over 3 billion colonies per product gram of bio-enzymes and multi-cultured bacteria.
Our Sustainability Initiatives