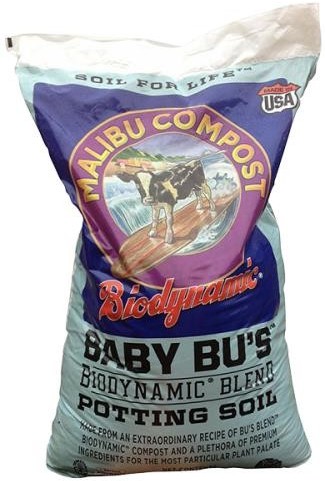 BABY BU'S BIODYNAMIC POTTING MIX
This product is not available for purchase online. Please call us at 650.364.1730 or visit our store to place your order.
Baby Bu bursts with premium materials specially blended with Bu's Blend(TM) Biodynamic(R) Compost to Support plant & soil life in your raised beds, pots, container gardens, hanging baskets, and houseplants.

Baby Bu's(TM) Biodynamic(R) Blend Potting Soil:

> Contains no GMOs, pesticides, sewage sludge, growth hormones, or synthetic chemicals
> Acts as an alternative to chemical, synthetic, and "faux" soil amendments
> Aids in the proliferation of beneficial soil microbes
> Is ideal for seeds, seedlings, & transplants
> Saves water through proper moisture absorption at the surface and dissipation at the root levels
> Is safe and non-toxic for your kids, your pets, and our planet.

Ingredients:

Coir, compost (composted organic dairy cow manure, wood chips, straw, concentrations of yarrow, chamomile, valerian, stinging nettle, dandelion, & oak bark), fir bark, perlite, worm castings, soybean meal, fish meal, fish bone meal, langbeinite, alfalfa meal, crab meal, green sand, neem seed meal, volcanic ash, biochar & kelp meal.

Baby Bu's Biodynamic Potting Mix is available pre-bagged in 1.5 cubic foot.
Our Sustainability Initiatives