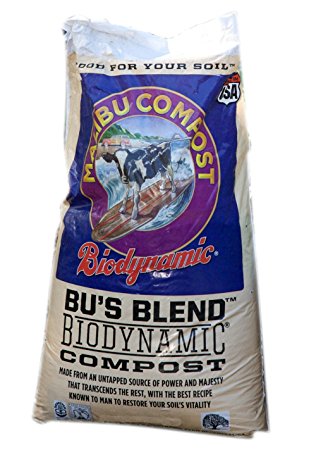 BUíS BLEND BIODYNAMIC COMPOST
Calculator
A Demeter(R) USA certified biodynamic compost. Contains no GMOs, pesticides, sewage sludge, growth hormones or synthetic chemicals. Acts as an alternative to chemical, synthetic, and "faux" organic soil amendments. Excellent compost to feed your soil.

Ingredients: Dairy cow manure, straw, wood chips, and concentrations of yarrow, chamomile, valerian, stinging nettle, dandelion, and oak bark.

For good soil & seasonal care: Spread 1/2" to 1" of Bu's Blend over planting area (for edibles and grass), watering well (for roses and other bushes), or drip line (for larger trees). Water in (or let the rain do it for you) and let the microbes do the work. Repeat every 3-4 months.

For poor soil: Break up the soil and apply up to 2" of Bu's Blend on top. Water deeply & repeat every 2 weeks or so until soil improves. The water will draw beneficial microbes deep into the soil, where they will work to improve soil structure and vitality.
1
| | | | |
| --- | --- | --- | --- |
| Starting from $9.50 | | | $26.50 |
Our Sustainability Initiatives